DIKSHA (Digital Infrastructure for Knowledge Sharing) has been formally launched by the Hon'ble Vice President of India on 5th September 2017.
For Students, Teachers, and Parents:
Features of DIKSHA Portal
Here are some important features of DIKSHA portal for easy access of students:
QR Code - National Digital Infrastructure for Teachers and students can be accessed after scanning the QR code provided in their NCERT books. After scanning the QR code, the portal will come up with suggestions and topics that you want to study.
Language - The portal is accessible in English and varied languages that include Hindi, Marathi, Tamil, Telugu and so (18 languages). You can choose any language depending upon your comfort and convenience.
Location-based - The portal would first ask for the location to which you belong. For example, you choose Delhi as an option, it would further ask you to choose 'sub-location' means in which locality of Delhi you reside. Accordingly, it will show you the courses that are going on in that region from which you can choose the desired course as per your skill set.
Class Based - DIKSHA portal requires a user to choose the class whose study material has to be accessed. Click on the standard whose study material you wish to access and enter the SUBMIT button.
DIKSHA Mobile App
DIKSHA portal is an advanced platform that is available for the android and iOS users also. You can download the DIKSHA app from Google Play Store. The mobile app is available for not just teachers but also for the students and parents. The app is loaded with engaging learning material that fits the needs of prescribed school curriculum.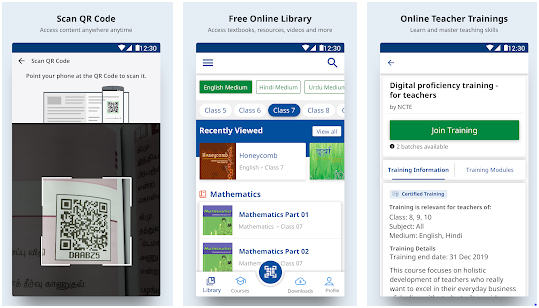 App Highlights
Explore interactive material created by teachers and the best Indian content creators for teachers and students in India. By India, for India!
Scan QR codes from textbooks and find additional learning material associated with the topic
Store and share content offline, even without Internet connectivity
Find lessons and worksheets relevant to what is taught in the school classroom
Experience the app in English, Hindi, Tamil, Telugu, Marathi, Kannada, Assamese, Bengali, Gujarati, Urdu with additional Indian languages coming soon!
Supports multiple content formats like Video, PDF, HTML, ePub, H5P, Quizzes - and more formats coming soon!
How will Teachers benefit?
DIKSHA - National Digital Infrastructure for Teachers is also available in the form of mobile app. It is loaded with lesson plans, worksheets and activities, to create enjoyable classroom experiences. The portal enables the teachers to understand their career span. From the time they join the school to their retirement, they can map out their career progression and can work on their skills accordingly.
Advantages for teachers
Find interactive and engaging teaching material to make your class interesting
See and share best practices with other teachers to explain difficult concepts to students
Join courses to further your professional development and earn badges and certificates on completion
View your teaching history across your career as a school teacher
Receive official announcements from the state department
Conduct digital assessments to check your students' understanding of a topic that you have taught
How will Students benefit?
Students having access to DIKSHA app will be able to understand concepts in an easy and interactive manner. There are features through which lessons can be revised. The app also facilitates the students to test his/her learning through self-assessment practice exercises.
How will Parents benefit?
Parents having access to DIKSHA app in their mobiles can follow classroom activities and clear doubts outside school hours. It is a comprehensive platform for hassle free interaction of all the stakeholders involved.
Advantages for students and parents
Scan QR codes in your textbook for easy access to the associated lessons on the platform
Revise lessons that you learnt in class
Find additional material around topics that are difficult to understand
Practice solving problems and get immediate feedback on whether the answer is correct or not.
Sample Contents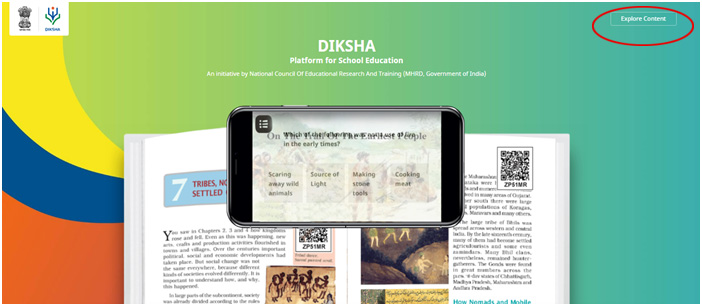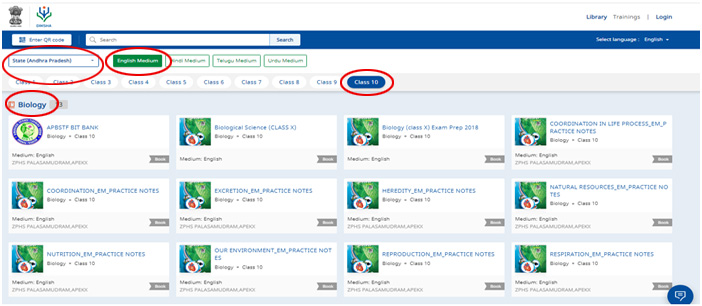 Coming Soon
Creation of a Repository of all such e-contents at one place.
Development of online assessments and training software for students and teachers.
Provision of a platform for applying advanced technologies like Artificial Intelligence and Machine Learning.