Radio, Community radio and Podcasts
For Students:
Mukta Vidya Vani
Mukta Vidya Vani is the unique Educational Web Radio, Streaming Audio for educational purposes and part of the largest Open Schooling in the world. It enables a two way communication with any audience that has access to an internet connection from its studio. Mukta Vidya Vani has completed fifth glorious years of its achievement driven existence in the field of using Streaming Audio for educational purpose which has now become an effective and popular platform for the learners pursuing education. The main objective of Mukta Vidya Vani programmes is to empower the learners of Secondary, Senior Secondary and Vocational streams of NIOS studying various course materials through web streaming.

NIOS organises live interactive web-streaming of Personal Contact Programmes (PCPs) on various subjects of Secondary, Senior Secondary and Vocational courses for its enrolled learners through Mukta Vidya Vani (MVV). Radio Vahini also broadcast these PCPs to maximize its reach not only among the learners but to the masses in general.
Shiksha Vani Podcast
Podcast called Shiksha Vani of CBSE disseminates audio content for various subjects of grades 9 to 12, in a timely, educative, lucid and seamless manner. CBSE-Shiksha Vani is available on Play Store for Android phone users. So far Shikshavani contains approximately 400 pieces of content in the form of audio files on topics in accordance with NCERT curriculum.
DD and AIR
Doordarshan and All India Radio are broadcasting virtual classes and educational content across the country on radio, You Tube, and TV. The virtual learning through DD and AIR includes:

Curriculum based classes for primary, middle and high school students.
Secondary School leaving certificate subjects.
Model question papers for students appearing for Boards.
Preparation for engineering and medical entrance examinations.
Story telling and quiz shows.
Most of these educational broadcasts start early in the morning and get repeated in the afternoon.
Sample Content:
The recordings of these audio PCPs are available 24x7 on NIOS website at https://nios.iradioindia.in. NIOS also reaches the learners through various social media platforms to optimise the reach audio/radio content.
Learners may access the You Tube channel with the link:
https://www.youtube.com/channel/UCQoE4T_IVObZGWeMIRDQFww and
Facebook page through https://www.facebook.com/Radio-Vahini-FM-912-MHz-NIOS-Community-Radio-2297095143891802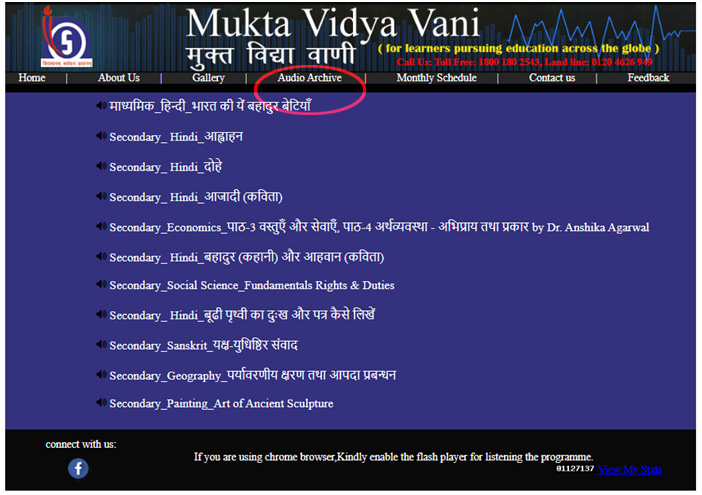 Fig. – Audio archive of Mukta Vidya Vani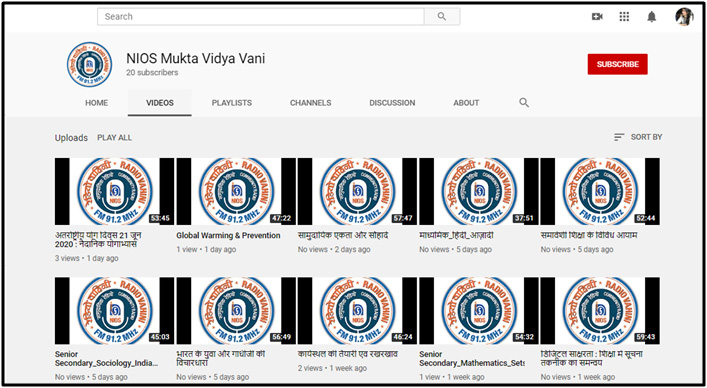 Fig. – You Tube channel of Mukta Vidya Vani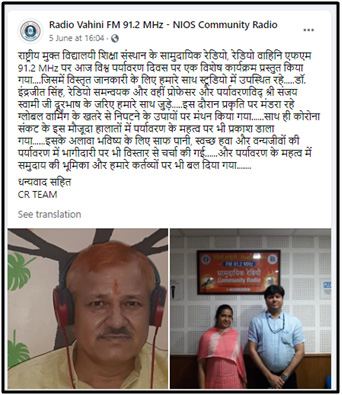 Fig. – Facebook page posts by Radio Vahini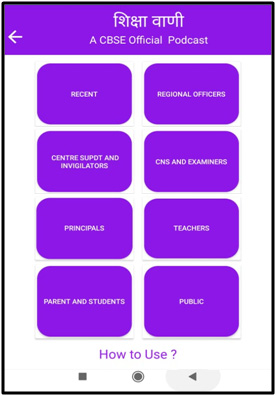 Fig. – Podcast app by Shiksha Vani